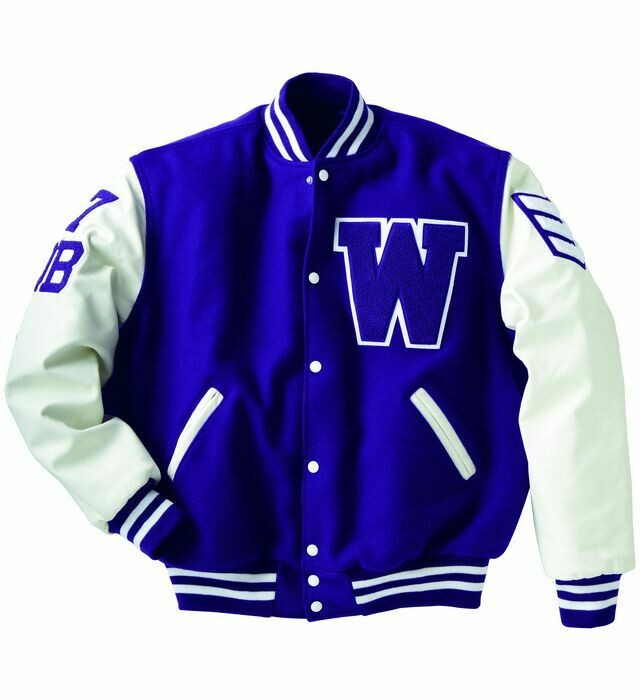 CUSTOM VARSITY JACKET
J4181
Product Details
CUSTOM VARSITY JACKET
Bandmans Letterman jackets are manufactured to the highest quality standards in the industry, and we stand behind our quality craftsmanship.
Product Details:
Your choice of color wool body and your choice of color vinyl sleeve
24 oz. wool, high quality dry cleaner friendly vinyl or leather combinations available.
Byron collar
7 band elastic strips are woven into our knit to ensure a long lasting fit without worry of the knit bands on the waist and cuffs becoming too relaxed and sloppy fitting
There is no extra charge for our quilted lining and can come in any combination of full quilted or quilted sleeves with regular lining
All jackets come with a discrete zipper opening at the bottom of the inside lining for easy access in any future decoration needs as the student adds to their accomplishments during his or her school career.
Chenille embroidered patches available. See Jacket anatomy photo for chenille and embroidery artwork. (not included). Complete the Jacket anatomy sheet and upload for pricing on chenille and embroidery.
SIZES: S, M, L, XL, XXL*, XXXL*, XXXXL*
Available in Tall
Custom colors, allow 6 to 8 weeks for delivery
---
ADDITIONAL INFO:
$5 charge when purchasing less than 3 items
If screen printing or embroidery is selected we will contact you for further details
Bandmans will contact you after the order is placed to confirm shipping info.
Delivery date for order is NOT set until Bandmans logistics team has sent email with delivery date confirmation.

- Shipping date may depend on weight, quantity, and size of item.
Save this product for later