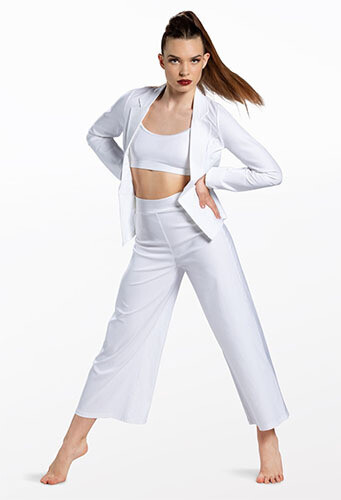 STRETCH SUIT BLAZER, PANTS & BRA TOP SET
AH12576 / AH12577
Product Details
VCODE #: VWE
Handling fee criteria: 3
Less than minimum fee: 10
STRETCH SUIT BLAZER, PANTS & BRA TOP SET
SKU: AH12576 / AH12577
---
STRETCH SUIT BLAZER AH12576 ~ $62.95
STUDIO EXCLUSIVE
Fitted blazer made of stretch suiting
Faux pockets
Functional button in front
Princess seams in front and back
Glitter free!
Imported
Fabric : Rayon/Nylon.
---
WIDE LEG SUIT PANTS AH12577 ~ $55.95
STUDIO EXCLUSIVE
Wide leg culotte pants made of stretch suiting
Mid-rise waist
Functional side zipper
MC inseam = 24.5"
SA inseam = 27"
Glitter free!
Imported
Fabric : Rayon/Nylon.
---
MATCHING COLORS LUSTRE CAMISOLE BRA TOP SH11076 ~ $19.55
STUDIO EXCLUSIVE
Lustre spandex bra top with adjustable straps
All sizes are fully lined in the front
Glitter free!
Made in USA
Fabric : Nylon/Spandex.
---
ADDITIONAL INFO:
At Bandmans we provide In Stock, Dance, Majorette and Guard Uniforms for immediate delivery. You can always count on Bandmans to make your experience a memorable one.
If you have questions for us, feel free to contact us at 1-800-527-2214 or bandmans@bandmans.com Our team will be happy to help you with anything you need.
---
SIZING CHART:

Save this product for later